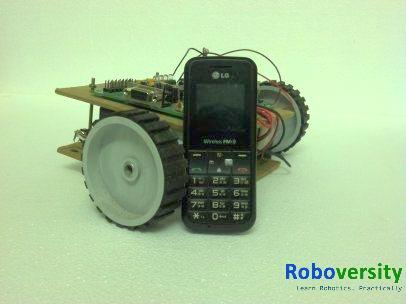 Mobile Robotics Workshop at Sona College of Technology, Salem
Date:
Oct 4 - Oct 5 , 2013
Venue:
Sona College of Technology, Salem
Fee:
Rs.6000/- per team of max. 5 members
Quality Assurance:
100% Fee refund if the robots don't work
---
Workshop Details
Mobile Robotics deals with robots that can be controlled wirelessly through mobile phones. This workshop introduces the students to various concepts of mobile communication and microcontroller programming involved in the development of a mobile controlled robot.
Workshop Specialities:
Understand, design and develop the entire mobile robot yourself under the guidance of our faculty
The workshop is desgined and developed by IIT Kanpur Engineering Graduates
The workshop is certified by MobMe Wireless
Workshop structure:
Understanding Mobile Robotics – Duration 4 hours
Designing the Robot – Duration 2 hours
Fabricating the Robot - Duration 3 hours
Programming the Robot – Duration 3 hours
Testing Robots and Competition – Duration 3 hours
Outcomes:
Highlights of the Workshop:
Design, Build and Operate a Mobile Based Robot
Fabrication and Microcontroller Programming
Learn and use DTMF Decoders to build a Robot that can be controlled by a Mobile Phone using Mobile Network
Develop a live working Robotics Project
Encourages participants to think and come up with new designs
Online Examination and certificate with score
Certification:
Certificate of Paticipation by Roboversity and MobMe Wireless to all the participants
Certificate of Merit by Roboversity and MobMe Wireless to the top-performers

In addition to, the names of the recipients will be put up on our participant-awards page permanently
Awards:
The following awards will be given to top-performing participants
Best Project Award
Best Fabrication Award
Fastest Fabrication Award
Innovation Award
Workshop Course Content:
Kit Details:
The following kit would be given to the participants
Hardware:
Skyfi Labs' Robotics Development Board
Microcontroller
All ICs and IC Holders
DTMF Decoder module
DC Motors
Audio Jack
Battery
Wheels
Chassis
Digital Multi Meter*
Working Tools*
Other miscellaneous items
* will be taken back after the workshop.
Other Material:
Booklets on
ICs and Microcontroller
Skyfi Labs' robotics development board and sensors
Programming and burning software
Maintenance of robots
Who should attend?
Student from any background with interest in robotics
---
Registrations
Fee:
Rs.6000/- per team of max. 5 members
---
You can also request us to organize this workshop in your college
Request workshop
---
Any questions?
write to us at This email address is being protected from spambots. You need JavaScript enabled to view it.
Ask us at
www.facebook.com/roboversity